What is Long Term Care Insurance?
Long term care insurance is an insurance product that helps individuals cover long-term health services and support. A long term care (LTC) insurance policy will pay out benefits for care received at home, adult day care centers, assisted living facilities and nursing homes.
Long term care is different from medical care. Long term care assists with normal daily activities when an individual can no longer manage them on his or her own. Whether the need for assistance is due to age, injury or disability, long term care insurance provides daily and/or monthly benefits to pay for the necessary care that is not generally covered by health insurance, Medicare or Medicaid.
LTC insurance benefits are triggered when an individual is unable to perform two or more activities of daily living (ADLs) such as toileting, bathing, dressing, eating, transferring (getting from one point to another without falling) or continence. A cognitive impairment, which can include problems with memory, perception, problem solving and conceptualization, can also trigger benefits if it leads to a requirement for substantial assistance.Policyholders' own doctors are responsible for certifying when care is needed.
Planning for Long Term Care Using LTC Insurance
Who Needs Long Term Care Insurance?
Long term care insurance should strongly be considered if you: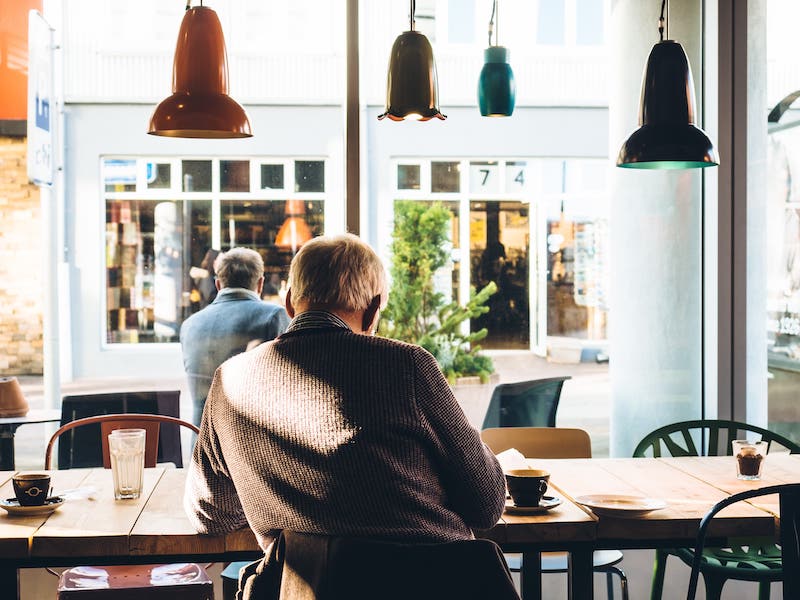 Believe you could live a long life: Thanks to advances in modern medicine and lifestyle changes, people are just plain living longer. The elderly population continues to grow, and the number of people over the age of 65 is projected to double by the year 2050.
Acknowledge the possibility that you may need care at some point: If you've worked hard to build up a retirement portfolio and don't want to see it depleted by long term care costs, long term care Insurance is for you. Of course, not all care is created equal. With more resources at your disposal, you will be able to choose quality care facilities and caretakers.
Agree that the cost of care could financially and emotionally devastate your family: Long term care can have devastating effects on families. Taking care of a loved one without the necessary financial resources can strain people and families to the breaking point.
Types of LTC Insurance Policies
There are several types of long-term care insurance policies available to assist with personal care as your clients age. SSK LTC Associates offers comprehensive insurance policies that include Skilled Care, Intermediate Care, Custodial Care and Home Care benefits. Our team will help you understand the details and benefits of each LTC policy and help develop a custom solution to fit coverage needs.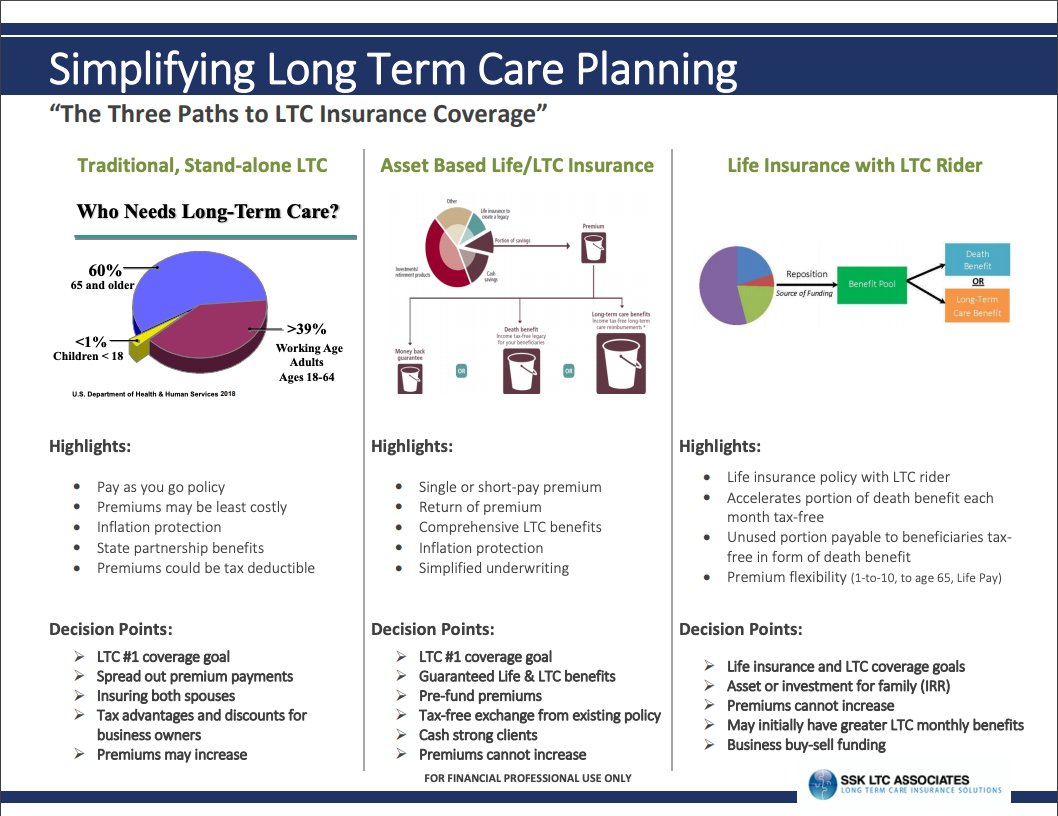 Many long term care insurance policies also offer coverage for in home care. Covered services often include assistance for tasks such as homemaking and chores, cooking, bathing, and transitioning. Policies may also cover alternate care, including medically-necessary home modifications, respite care, adult daycare and assisted living expenses.
Medicare and Medicaid
Medicare does not cover long term care expenses in most cases and Medicaid strictly limits where you can receive your care.
The limitations of Medicare and Medicaid are why it is important to determine the level of long term care you would like and identify an insurance plan that will meet your needs.
When to Buy LTC Insurance
Knowing when to buy long term care insurance is important. If you're young, healthy, and active, buying long term care insurance early is beneficial for three primary reasons:
Cost

: When you buy LTC insurance you lock in a premium rate. By buying early (when you are presumably healthier than you will be in the future), you lock in an annual premium will lower than the premium you would lock in if you were to buy later in life.
Selection: You have the greatest number of long term care options when you are young and healthy. Preexisting conditions that exist when you buy later in life can limit the type and amount of coverage you are eligible for.
Opportunity: Aside from old age, long term care can also be necessary in the case of a catastrophic accident or disability. 40% of those who currently receive long term care are adults between the ages of 18 and 64 years old. According to Genworth at least 70% of people over 65 will require some long term care services at some point. Given these statistics, it should come as no surprise that the American Association for long term care Insurance reports that the average age of LTC insurance buyers is now just 58 years old.
No matter how old you are when you purchase a plan, a lifetime of premiums will always be less expensive than one year of long term care.
Interested in Long Term Care Insurance?
For more information about long term care and long term care insurance, contact SSK LTC Associates today to speak with an expert.